Remote Escape Game (Aurora)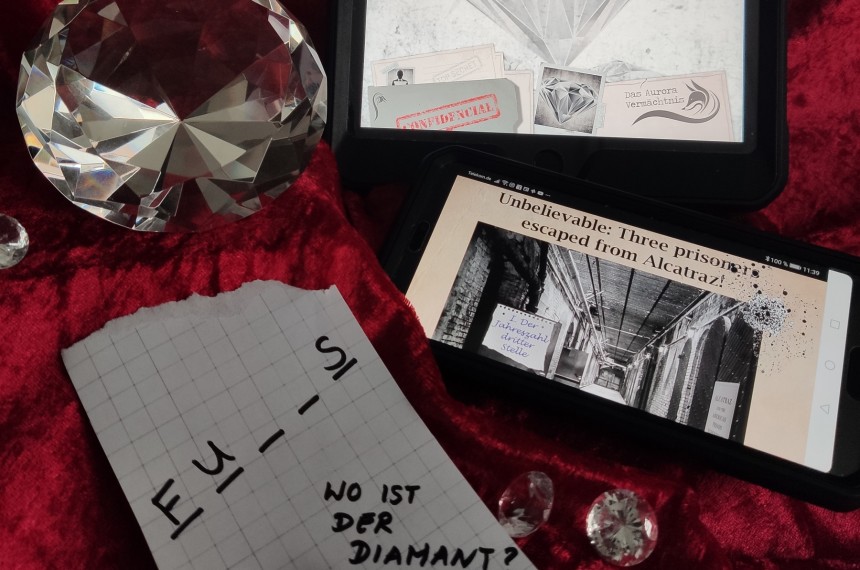 Remote Escape Game (Aurora)
Use our Online Escape Game for a good team-feeling and organize a virtual team event for your employees! Together with your team it is the task to solve an exciting criminal case: The precious Aurora Diamond has been stolen and you have been hired to find it! Logic puzzles, secret video messages, hidden clues - Every participant can help with his or her criminalistic skills to solve the case! With team spirit, creativity and communication you and your team will solve the case. Teamgeist organizes and moderates the team event: Each participant will receive instructions and access to the respective online video team room. Before the team begins to puzzle, we will give you a joint welcome and explanation in the video conference room. You will see that a personal get-together is not necessary for a sense of unity and teamwork! Your employees will quickly get more teamspirit and they realise that working together in a home office is also much fun. A realization that will certainly be of great value for you and your team in the future in your everyday work!
Event details:
Nationwide
10-100
2 Hour(s)
Services
- Provision and preparation of a large group room and one room per team based on a common video conferencing tool, such as Zoom
- Invitation management to the rooms as well as preparatory instructions for downloading the tabtour® application
- Moderation of the event and event management
- Supervision and support of the event by other experienced Teamgeist guides
- The level of play is very well suited for both beginners and advanced Escape Game friends
- Team size of a maximum of 5 people, to encourage as much communication as possible within the team
- playing time 60 to 90 minutes playing time, plus award ceremony
- Award ceremony with highscore view
Optional:
- Time for chat: Team room can remain open for another half hour after the event.
Thank you for your request!
We will take care of your request as soon as possible.
If you have any questions or need further help, please give us a call or write us an email.